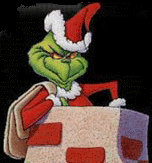 I hope you have all been enjoying stuffing your faces and gazing wall-eyed at your new pile of gimcracks, thinking of jesus and abusing the scarf your grandma knitted you.
I had a some lovely Turkey at Licketysplit's house, which she served in an apron bedecked in stars. Christmas night is spent as usual searching for a bar thats open. Don't You need drinks after spending the day listening to "Good King Wenceslas" and slurping egg nog while your mom asks if you have gained weight? So why did You not open My bar?? Its totally irresponsible, people need drinks!
Speaking of which, you are all invited to Lambchop's New Years Eve Party. There will be tons of attractive and intoxicated people. We will likely have karaoke and greet the dawn standing on the porch in our underwear, sucking the last of the Freixenet from the bottle. My New Year's Resolution will as usual be to never do this again.
Don't you just love new beginnings?
-xo